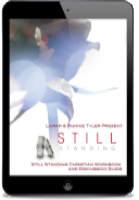 Still Standing Christian Workbook & Study Guide [eBook]
Each of the six sessions is designed to fit within thirty minutes to one hour and is broken down into three areas.
Advice to Stand on is designed to reinforce the solutions that each couple discovered on their way to Still Standing in their marriage. The completed answers will also provide a written reference for each participating couple.
Discussing How to Still Stand is intended to generate positive, open dialogue between husbands and wives. Share openly and honestly about how the video segment is reflective of your own marriage.
Thinking on God's Word connects the insight and story of each couple from Still Standing with the message and insight of God's word in the Bible. These can be done during a group meeting or may be best as points of meditation throughout the week.